Haven't been up to much. I went to the Bronx Zoo on Memorial Day which was fun. We got really good pizza at an Italian place near the zoo before going in and, after leaving, picked up 75 cent ices on the way to the subway. Just try to find
that
in Manhattan.
Yesterday I went to see
110 in the Shade
with my grandmother. We had dinner at Iguana and I got to hear about how she had to go to the opthamologist soon and it made her very nervous so she was rather wishing she had marijauna.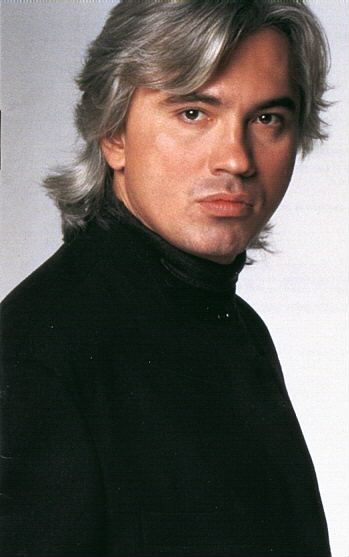 Then we moved on to how she had had seen Dmitri Hvorostovsky sing at a Metropolitan Opera Guild thing and stood
not two feet away from him
in the elevator. Hvorostovsky is totally my grandma's celebrity crush. Personally I don't see it, but according to
La Scena Musicale
, "Hvorostovsky is one of nature's physical aristocrats. Those sardonically sensual lips, that trademark mane of silver hair and those hooded Slavic eyes suggesting cruel Tartar ancestry - the man is totally hot and, paradoxically, cold."
Setting aside the fact that the writer should perhaps moonlight as a sub par romance novelist, I just don't get it. Personally, I'm not filled with the sudden desire to tear off that black turtleneck but if it works for some--grandma included--then ok. My grandmother is also charmed by the fact that he sings a song
her
grandmother used to sing years ago. Ochi Chernye (Dark Eyes), in case anyone was overwhelmed with curiosity. Of course, I suspect my great-great-grandmother sounded just a bit different when singing it.
Then, as she always does, she requested her dessert without the calories. This would be funnier if she wasn't a small thin woman who obviously can afford to eat her molten chocolate cake.
So, anyway, on we went to the musical.
And lets be honest, it's a good musical, but everyone's there for Audra McDonald. She didn't win those Tony Awards for nothing. The most interesting thing about this particular production is the colorblind casting. John Cullum played her father (my grandmother happily noted that she saw his Tony-award-winning performance in
On the Twentieth Century
forty years ago) and because musicals require such a suspension of disbelief anyway, and they're so good, you really don't question it. My only moment of real disbelief came when McDonald's character was told she was plain and I thought,
Audra McDonald is
so
not plain, you twit
. The musical itself is good but not great. It's her performance that makes it such a delight.
And of course, because I cry at the drop of a hat, I was sitting there, just before intermission, wiping away tears and wishing I had tissues. Give me songs with lyrics like, "Oh, God, don't let me live and die alone," and I'm an instant mess.
I still say Ebersole should get the Tony this time around though, for her act of ventriloquism in bringing Little Edie back from the dead.