I'm getting fairly accustomed to sitting in the last three rows of City Center's rear mezzanine. We don't even need anyone to tell us where to go at this point because we've pretty much sat in the same seats the last three times we've been there. Which says an awful lot more about the price of the seats than it does about how much we enjoy them because they're pretty terrible.
I always feel weird writing about dance (and I promise, at some point I'll stop going on and on about this but I feel like I need to include it like a disclaimer). I go to see because I feel so unqualified to talk about it. When I write about books or even plays and art exhibits that I go to see I feel fairly capable of making statements about them. I at least
know
what I've seen or read, whereas when I'm watching dance I always feel like I
think
I see something, or I
might
see something, but I never feel particularly confident about it.
Anyway, just like Wednesday night, the show opened with
Clear
. The difference being that it featured Jose Manuel Carreño and Paloma Herrera instead of Herman Cornejo and Xiomara Reyes. I liked Cornejo better than Carreño in this piece. Somehow he seemed more invested in the piece and also more fluid. Carreño was somehow more distant and stiff seeming at times, although certainly not always.
There are a number of things I don't understand about this piece. Why are the at times awkward and even vaguely absurd arm movements there? It makes the piece seem showier and less interesting. And what is the purpose of the one woman in the otherwise homosocial milieu? If the dance is about her and the central male figure then what is the purpose of all the other men who periodically interact with her? If it's about the men then what is her purpose? Or is there no purpose or point? It's totally possible that there's something there which I'm not getting. But I'm definitely not getting it. That said, it's fun to watch, and I very much enjoyed the duet with Hammoudi and Hoven on both nights.
The second piece was the world premier of Jorma Elo's
C. to C. (Close to Chuck)
which is a rather clever name given that it's based on the life of Chuck Close. The music was by Philip Glass, whose music I generally like and the primary parts were danced by Marcelo Gomes and Julie Kent.
It began with five people, three men and two women, standing on the stage wearing stiff floor length skirts and jacket like things (if I'm remembering correctly) in dim lighting. A third woman, also in a stiff skirt came and took the jackets. This left the men bare chested, while the top half of the women's clothing was largely semi-transparent with a cross-shaped swath of black material. When the dancers turned the shiny inside of the skirts was visible.
When the dancers began to move it was stiffly, almost robotically, and often only one of two moved at once, while the others stood still. Eventually they got rid of the skirts (off stage) and returned with the women in leotards (what had before seemed to be the top half) and the men in black tights that were semi-transparent on the outside of the leg.
I'm so bad at remembering sequences, so bear with me here, but at some point everyone left the stage except for Gomes. He stood alone in the middle of the stage with his back oddly contorted. He then began to dance, at times looking as though he was not in control of his extremities, particularly his hands. The movement seemed tortured. I took this part to be symbolic of the spinal aneurysm that robbed Close of the use of his hands and legs and the physical and emotional pain that must have come with it. Gomes was fantastic in this section.
Kent then came back on stage and she and Gomes danced together with what was the most fluid seeming movement of the piece up to that point. Perhaps him learning to live and paint again post-paralysis? After their pas de deux (I think that would be the correct term here?) the rest of the dancers took the stage as well and now their dancing seemed to me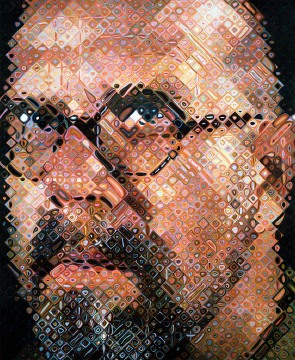 to be filled with joy. Herman Cornejo seemed to me to embody this particularly well. The overcoming of obstacles, conquering of adversity, realization that life goes on after tragedy? Even the discovery of something new--like Close's current style of painting--out of the wreckage of the old? In the end though, the stiff movement came back, and here I thought that maybe there was a reminder that we cannot go back and what is done can't be undone.
I really loved the whole piece. I don't know enough about the idiom to judge the choreography as such, but I was continuously interested in what was happening on stage and, more importantly, I thought that the dancers were wonderfully expressive of the emotional content. I felt that, in both the music and the dance, it was a truly moving tribute to Close.
As an aside, while I certainly have
liked
Gomes's dancing in other things, I really
loved
his dancing in this.
I suppose it's only fair to note that that the elderly gentlemen sitting next to us liked it rather less than I did, saying it was their "least favorite Jorma." I'm sure it comes as no shock to you to hear that I've never seen anything choreographed by Elo before.
Wendy liked it after the beginning but said that she really prefers the tutus and the pretty dancing and stories. I, meanwhile, am finding that I really don't. I just remain unconvinced that dance, which I think can express ideas and emotion brilliantly, is the best way of conveying a narrative. I don't know--I'd be happy to be proven wrong.
And to just add one more note, I really liked that Close was actually involved in this work and came out for the bows. At least in the rear mezzanine, it was when he came out that everyone stood up.
The third and final ballet of the evening was
From Here on Out
choreographed by Benjamin Millepied, which had it's premier on Friday and is danced to a commissioned score by Nico Muhly, something that has been presented as a big deal. David Hallberg and Gillian Murphy were dancing the leads tonight. On the whole it rather reminded me of some of Wheeldon's work that I saw when we went to see Morphoses, except it has more lateral movement (a good thing) and less invention (not such a good thing) then what I saw there.
The title seems to imply some kind of prescriptive for the future--from here on out it will be this way, from here on out you should do this, etc.--but I wasn't sure how that related to what I was watching on stage. It was interesting in parts and less interesting in others. On the balance I enjoyed watching it, but unlike with
C. to C.
I don't have much interest in watching it again. I thought that Murphy was lovely but not, I thought, particularly expressive and Hallberg didn't have much to do but was enjoyable to watch anyway. I wasn't a fan of the purple unitards. Beyond that I find myself with not all that much to say about it. The much-talked-up score was fine and had a lot of energy, but didn't speak to me in any particular way either.